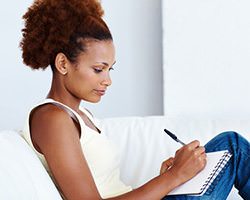 Photo credit:
http://thethingswomenlove.com/caption
With the New Year just starting, many of us have dreams, plans and goals we're hoping to accomplish. Whether it's a promotion at work, writing that first book, or building a business, there are things you want to accomplish, places you're planning to visit, experiences to be had and goals to be reached. Most likely, some will get scratched off your list, and others will remain there for another year. Have you wondered what sets apart those who turn their goals into concrete reality from those who keep hoping? Is their vision clearer than most? Or do they believe in themselves more than the rest of us?
I've asked myself the question for years, browsing through the profiles of overachievers on Forbes 30 under 30, or 40 under 40 list. I've read many a success story of seemingly ordinary people who started from scratch, pursed their dreams and achieved the extraordinary. One common theme throughout all these success stories, could always be summed up in one word: believing! Most of them had a crystal clear vision and focus. In the book Think and Grow Rich, Napoleon Hill writes "whatever the mind can conceive and believe, the mind can achieve it". 
So how does one believe effectively, in a way that does not just merely equate praying and wishing, but in an active, result-producing way? In The Answer, John Assaraf and Murray Smith speak about the famous "Five Musts" which must exist to activate success:
You must find something that stirs your soul;
You must become excellent at it;
You must recondition your mind to believe you can have and achieve it;
You must understand how to make money at it;
You must take daily action.
Are you believing effectively? 
The Corporate Sis.
Don't forget to Leave a comment!