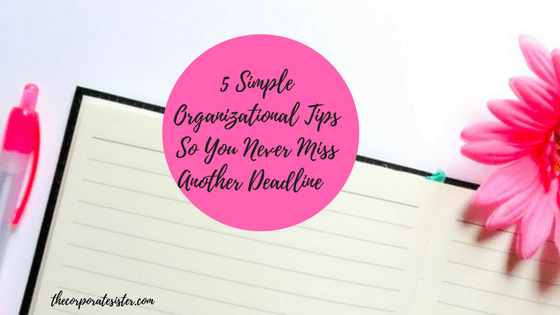 You know how it is. You do everything right at work, you're working your behind off, and somehow you manage to miss a deadline. With so much on your plate, it can be so easy to overlook something due at one point or another. Without the right organizational tips, that is…
It all boils down to having a simple, yet effective organizational strategy. Very often, we struggle to create complex to-do lists, ineffective organization devices and unsuccessful planning tricks that leave us even more confused and scattered.
Here are 7 simple organizational tips you can easily add in your monthly and daily routine at work to make sure you don't miss a beat (or another deadline):
Monthly:
Make a list of all weekly and monthly deliverables and the days on which they are due
Have a checking-in meeting with yourself on a monthly basis to take an inventory of all your deadlines and deliverables for the entire month. If possible, confirm it with your team and manager to make sure you've got everything due so far.
Set up an appointment on Outlook calendar on the day each deliverable is due
Add each deliverable or deadline to your Outlook calendar, or whatever electronic calendar you may be using. Make sure to add enough information for each deliverable or deadline.
Set up a reminder for all deliverables in Outlook calendar 1 day before due
It's one thing to log all your deadlines in your Outlook calendar or any other electronic calendar. Adding a reminder at least 24 hours before the deadline is coming due helps to ensure that it doesn't get buried in the pile of to-do's that inevitably comes your way.
-Transfer all deliverables on written paper calendar
I may be old school, but there's nothing like seeing something written right in front on your nose to send you a serious reminder about what you have to do. Add whatever deliverables or deadlines are coming due to that pretty paper calendar hanging in front of you in your office or cubicle. Being able to visualize your commitments and deadlines goes a long way towards helping you get organized.
Weekly:
List all deliverables for the week on planner
At the start of every week, it's helpful to have some personal time with yourself, and establish your course of action for the week. Even if you've already done this at the start of the month, list all your deadlines and deliverables for the week. Things change, updates occur, and checking in with yourself at the beginning of each week is the best way to confirm it all.
Check in with manager as to all deliverables, and confirm if anything else needed
Ideally, you should check in with your manager and team to confirm you've got all the deadlines correct. Organizing a weekly huddle is an effective way to do this.
Check that everything due is on Outlook calendar
Once you've confirmed everything that is due that week, as well as any upcoming changes, make sure that all your calendars and reminders are correctly set up.
Now are you ready to get started?
To Your Success,
The Corporate Sis.
Solange is the founder of The Corporate Sister, as well as an author, entrepreneur and CPA. She's passionate about helping women do work they love, build fulfilling careers and living life on their own terms.