The holidays rhyme with parties and social gatherings, which also require the wardrobe to go with. For many of us, this means having to think of what to wear to this party, that event and that other social gathering. Which may or may not end up in yet another trip to the mall, spending non-budgeted money on non-planned expenses for fashion we may only use once, or twice, at best.
I know the feeling…As a career woman, and one who has a slight addiction to fashion (don't judge me), I've found myself in this predicament one too many times. Here I was, roaming the get-together and oh, that New Year's Eve bash too. Result: Christmas gifts budget expanded before said Christmas gifts bought. Which also translates in serious financial discussion with the hubby, and elaborate accounting schemes to cover the dire facts.
A few years ago though, on a fateful holiday season during which the family funds were being monitored more closely than usual (husbands do get smarter with time), I resigned myself to re-purposing my workwear into affordable, yet stylish holiday wear. Not only did I save some serious bucks (which I later re-purposed in after-holiday vintage shoe sales), but I also found some of the most elegant picks for holiday fashion.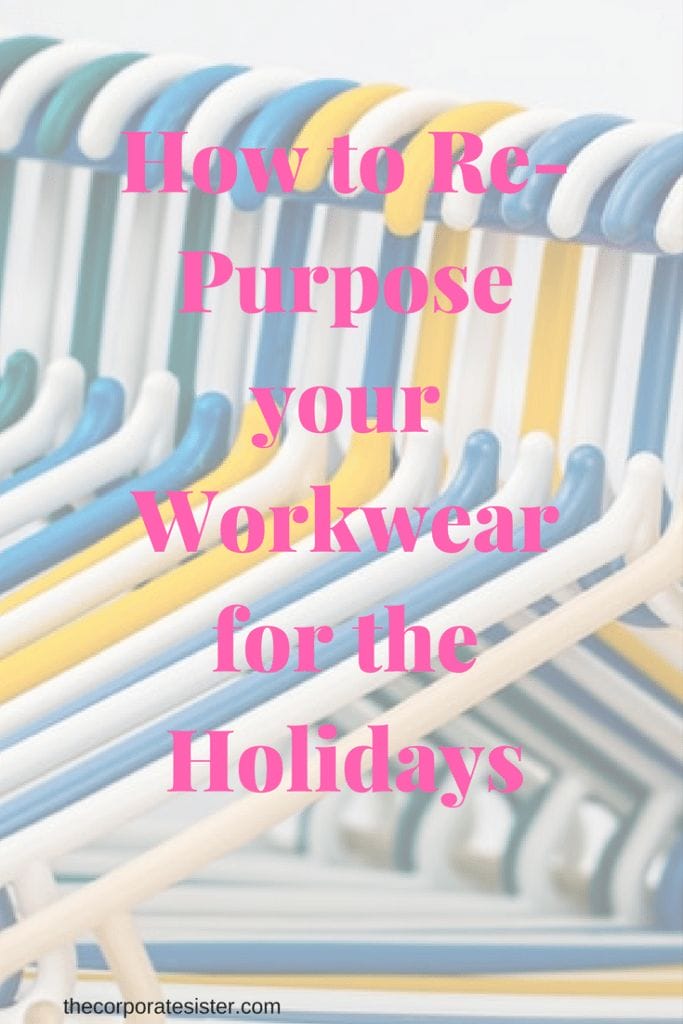 Here are a few ways you can shop your own closet and re-purpose your workwear for the holidays:
Re-engineer your LBD
That LBD that feels like a second skin and looks like a fitting, elegant yet appropriate glove on you? It's the perfect alternative when you have nothing to wear for the holiday party. All you have to do is merchandise with some serious bling, upgrade your make-up to fabulous levels, and add a show-stopping pair of heels, and voila! You now have a classy and chic party dress for any holiday occasion.
For instance, I like this Maggy London lace detail crepe sheath from Nordstrom, perfect for the office to the party.
Use those work blazers
Don't despise those work blazers aimlessly hanging in your closet! They're the perfect companion to a fabulous party dress or skirt, and will add a classy touch to any party pants. Add a sparkly brooch and dazzling chandelier earrings for a perfect holiday look!
This rose-print jacquard blazer from White House Black Market is a powerful addition to any holiday outfit.
Add some sexy to your black suit
That black suit you've worn to your best interviews? Dust it off and take it out on the town for the holidays. Pair it with a sexy yet chic silk camisole, some show-stopping jewelry, and a sleek pair of pointy heels, and you'll be in holiday business in no time!
I love this simple yet chic tropical wool suit from Ann Taylor, that can be re-purposed over and over from work to party.
Pull out that black pencil skirt
Your classic black pencil skirt is begging to be recycled and paraded around town, so please oblige! Pair it with a silky blouse or delicate cashmere top for instant sophistication. Don't forget to throw in some original tights, an original purse, and can we say fabulous!
I like this ASOS high-waisted thigh list pencil for its elegance mixed with a hint of sassiness.
Put your black slacks to work
Nothing to wear? Think again…Those black slacks that are so comfortable can be comfortable and holiday-ready too. How about adding in a delicate lace top, some striking pumps and make it the supporting act of a fantastic holiday style?
These Alfani tummy-control slim leg pants from Macy's are a great fashion choice for the holidays!
Recycle that classic black pump
Black pumps are the little secret of perfect holiday outfits. You can pair them with just about anything, from your favorite party dress to that holiday jumpsuit. No need to go shopping for expensive shoes you'll only wear once (and will most likely murder your toes), when you can pull out those classic, chic work black pumps.
For instance, these Kristin Cavallari Gisele suede pumps from Zappos are both work and holiday-appropriate!
Re-use your understated work jewelry
If you plan on increasing the bling factor in your holiday wardrobe, consider recycling your work jewelry. Nothing like elegant pearls or understated studs to offset a sparkly dress or top.
How else can you repurpose your workwear for the holidays?
The Corporate Sis.
Solange is the founder of The Corporate Sister, as well as an author, entrepreneur and CPA. She's passionate about helping women do work they love, build fulfilling careers and living life on their own terms.