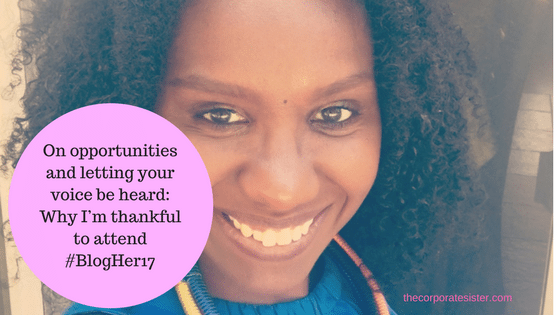 As I'm writing this post, I'm sitting on a flight in a middle seat on my way to the BlogHer '17 conference in Orlando. It's a Thursday morning, and right about this time, I should be getting the kids up to get ready for camp, as I hurriedly rush to complete any pending freelance gigs or blog posting before work.
Instead of my usual hurried morning routine spent between desperately attempting to get my little guy in the shower (something about his strong inner belief that showers are not needed by humans), coercing my daughter's gorgeous and fierce curls into some form of a bun with my limited hairdressing skills, I'm sitting on a plane. Flying thousands of miles away to learn something new, but in the same token, paradoxically get back to who I've always been…
The BlogHer conference has been occurring annually for a few years now. This massive gathering of content creators, media moguls, social media stars, top brands, activist and fans, represents the culmination of expressive influence. Thousands of women meet every year at the intersection between expression and influence, across various industries and disciplines. Women like myself whose voices long to be heard.
Women who use what they have in their hands, in their lives, on their minds, to change the world, one voice at a time. Women like you and I….Except many women like you and I have not, or are still struggling to, tap into our own authentic voices. That is, without the guilt associated with doing anything remotely for yourself or according to your own plans…
Listen, I was trained as an accountant. Before that, I was trained to be an A-student. To follow the norms, walk within set boundaries, be docile, well-educated, and not too opinionated. Even before that, I was trained to make my mother, a single mother of four who made so many sacrifices to raise her children, proud. So I did as I was trained, like many of you. I went to school, got the good grades, got an honest job, and did the right thing. Except the right thing according to society is not always the thing that makes your soul sing…It's not always the longing for your soul, the heart of who you were created to be…
Fast-forward thirty-something years later, I'm heading to BlogHer'17, looking forward to hearing some of my sheroes like Serena Williams, Joy Reid, Luvvie, Chelsea Clinton,and so many others, take center stage and share their stories. I'm heading to learn from, listen and connect with women who are consciously choosing to follow their purpose and let their voices be heard in the process. To many, it may just be a simple media and influencers conference.
To many more like myself, it's an opportunity to step closer to identifying our voices. An opportunity to step away from who society tells us we "should" be, and be inspired to open up to who we really want to be.
Every time I attend a conference, networking event, or even a simple gathering of like-minded people connecting me to my purpose, it's an opportunity to grow, learn, be inspired, and in return, inspire. It's the power of stepping out of the ordinary into a space of possibility, opportunity and power! Yet above all, it's getting closer to who you really are, the you that may get stifled by obligations, duties and responsibilities. The You that may have been trained to live, think and act a certain way. The You that is continuously re-discovering itself through the pile of life's experiences…The You that always had a voice…
See you at BlogHer'17!
To Your Success,
The Corporate. Sis.