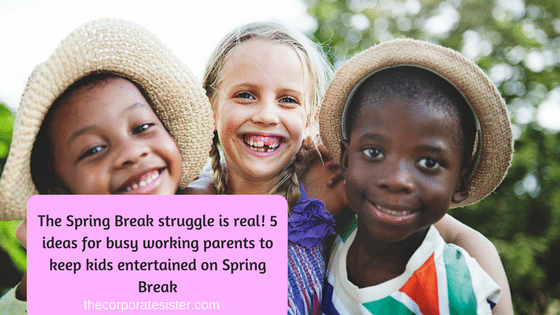 You know the drill…Spring break's knocking on your working parent's busy mind, and you start to (slightly) panic. Ok, maybe not you, the overachieving working mom over there who's got your kids' schedule down to the last second…But for the rest of us, aka me, myself and I, remembering that it's violin day and which lunch bag goes into which backpack is stretching my overactive neurons enough. Never mind coming up with entertaining ideas for an entire week to keep two kids under 10 active making memories and hopefully having something, anything, to tell their class when they go back to school…
I mean, the Spring Break struggle is real! We've gone from the usual museum and park visits to literally being pressured to come up with innovative schemes to keep kids (and other fellow parents) on their toes. The whole thing has turned into a parental production, what with social media hyping up your fellow (and craftier) parents' exploits at planning the perfect Spring break and all…
And here comes the less crafty, slightly planning-adverse, and thriftier mom…May we add she may not have had time to make reservations months in advance, or figured out what snacks are best to pack or what the weather will be in two weeks…
So for all the busy working parents out there who may not have their kids' schedules pre-planned five weeks in advance, or who may just realizing Spring break is actually starting in a few days (it happens), here are some quick tips on pulling off a break to remember (in addition to scoring your kids' gratitude forever, plus a few social media likes too):
Schedule It!
I know, I know, the whole point is not to add more to our to-do lists, right? Well, when it comes to kids being on break, being spontaneous and carefree is certainly great! Except when it takes the whole day to get out of the house, find the keys, you know, the regular stuff…But it pays to have somewhat of a routine in place, especially during breaks!
For us, it means scheduling the day ahead of time and making it fun by having the kids participate. While it makes them feel empowered and in charge (somewhat), it takes away the drudgery of planning, in addition to giving the parents a creativity break. You know…
We like to move it, move it!
The worst Spring break, or any break for that matter, sin is not to move. End result: kids going stir-crazy and driving you to open that bottle of rose earlier than expected! So think activities that make the little people move while learning something in the process! Apparently, activities that involve moving also help with retaining information and reading comprehension. Whether it's outdoor gallery walks when the weather's nice, or indoor kids' museums for more weather-inclement days, pick activities that help everyone move!
When in doubt, spend time in the kitchen!
Listen, there are days when you just don't know what other museum to visit, or arts and crafts to pull out your tired sleeve. And if there's one activity that needs to get done, unless everyone's trying to go on the no-food diet, it's cooking!
For us, it means involving the kids with dinner. While it can be a process, and a hot mess to boot, it's a great way to bond. Plus the perfect opportunity to have them brush up on their maths and reading skills, because you know, ain't nobody ruining dinner because they can't measure ingredients. 'Nuff said…
Hello Memories!
Look, we do want some credit for letting the kids destroy the kitchen, and have us run through the Children's Museum like we didn't just let our gym membership slide for the past year…So catch a break by having the kids create their own memories of Spring Break. Whether it's journaling, doing arts and crafts, or recording their favorite moments, allow them to use their creative juices to make mementos.
And for the non-crafty moms like myself, it's a great opportunity to sit down somewhere and catch your breath…
The (relaxing) truth is in the dirt!
Here's a revelation for all Type-A moms who have a personal issue with dirt. Make friends with it, fast! Some of the best Spring break activities and memories are build around…dirt and mess! Whether it's finger painting, sand playing, or other dirt involving devices, one surefire way to keep the kids occupied (and happy) during breaks is to let them get their hands dirty..
Besides, sensory experiences are known to help correct right and left brain imbalances. So there, a scientific reason to let dirt prevail (somewhat)…
What other suggestions do you have to keep kids busy on Spring Break?
The Corporate Sis.