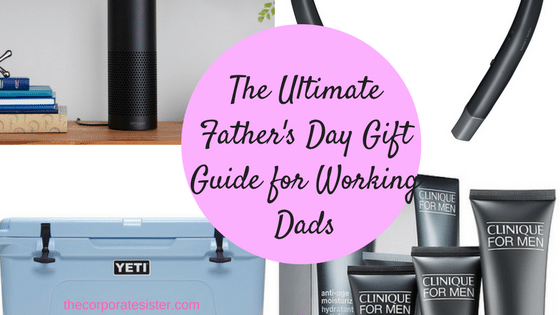 Time to celebrate the working dads in our lives! Father's Day is fast approaching, and if you're looking for gift ideas for the dads in your life, we're sharing our list of gift ideas for you!
While we're all about giving working moms their props, the working dads in our lives deserve some praise too! That's why we've compiled a list of practical, fun, and all around cool, gifts for dads! So let's give the working men in our lives the gift of swag, smarts and fun:
Hover Camera Passport Drone
Give Dad the gift of becoming his own personal self-flying photographer with the Hover Camera Passport Drone! This flying camera captures breathtaking shots in 4K videos and 13MP photos, by following you mid-air. It's portable, easy to fly and safe to maneuver. Simply tap the power button, release and voila!
Amazon Echo
Nothing like a hands-free speaker you can control with your voice to make Dad feel like a king! Amazon Echo can literally play music, make calls, provide information, send and receive messages, and so much more, just by speaking instructions to it…Kinda like his own personal assistant…
Yeti Cooler
Backyard barbecue or fishing trip? No problem. The Yeti cooler is perfect for the working dad who likes to get away on week-ends, or just chill in the backyard over the summer. It features up to 3 inches of permafrost insulation, and is virtually indestructible.
Wireless Stereo Headset
For the busy working dad on the go, this LG wireless stereo headset with bluetooth capacity is perfect! Whether to hit the gym, or just to take calls on quick errands, it guarantees outstanding audio quality while being super comfortable and practical for everyday use!
NBA Leather Sherpa Trucker Jacket
Combine a classic leather jacket with an NBA theme, and you've got the perfect Father's Day gift. This leather sherpa trucker jacket is the result of a collaboration between the NBA and iconic brand Levi's, and a nice compromise between sportswear and fashion.
Nintendo Switch
Most men have a sweet spot for video games, and the dads in your lie may be no exception! One of the hottest items in the video gaming world right now is the portable Nintendo Switch. It's super practical, has detachable Joy-Con controllers that allows for multiple players, or can be played individually as well.
Pro Chef Knife
Get Dad a Chef's gift this Father's Day! The Wusthof classic 8-inch chef's knife is a classic from a top brand used by the most famous chefs worldwide!
Skincare Kit
Who doesn't love a man who takes care of his skin? This Father's Day, spoil the dads in your life with the Clinique Daily Age Care for Men kit. He'll thank you, and you'll love it!
FreshBooks Software
Encourage dad to be more on top of his business finances with the Freshbooks software! This small business accounting software makes billing so much easier and painless!
I hope this guide has something for the working dad in your life!
Cheers,
The Corporate Sis.