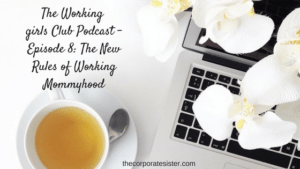 Welcome to episode #8 of the Working Girls Club podcast! In this episode, we're all about working moms, and we're discussing re-writing the rules around what it means to be a working mom in our day and age! As a working mom myself, I know the struggle is real, but so are the incredible rewards and the power to build our legacies and push the boundaries of what it means to be a working mama…Here's to the badass, thriving, ambitious working moms who are taking over the world!
What you'll learn/listen to/enjoy in this episode:
How being a working mom today is so different than any other time before
Why we owe it ourselves to shatter the ceilings around us and leave a legacy
6 rules to live, love and thrive by as a working mom today
Plus: my review of " A Year of Yes" by Shonda Rhimes and some deets on my first workshop
Introducing a "Products and Recommendations" section on the podcast, where I discuss tools that I use and stand behind. Today's recommendation is the Selz online content digital platform for all digital content creators and entrepreneurs out there!
Links:
Thanks for Listening!
Thanks so much for tuning in and listening to this week's episode! If you enjoyed this week's episode, please share it by using the social media at the bottom of this post!
Any feedback you'd like to share? Please leave a note in the comments section below!
Also, leave me a review for the WGC podcast on iTunes!
Your ratings and reviews are not only greatly appreciated, but they also help the show rank better!
If you have any questions, please email me at corporate@thecorporatesister.com!
Finally, please don't forget to subscribe on iTunes to get automatic updates!
Thanks so much for your support!
Until next time,
The Corporate Sis.
Podcast: Play in new window | Download
Subscribe: iTunes | Android | RSS