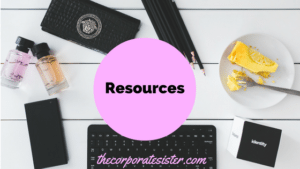 Disclosure: As a career, business and lifestyle writer, I partner with various brands as an affiliate to promote their products to my audience. These are all products I've used, and still use, and recommend to anyone looking for tools to further their careers or businesses. This page contains affiliate links, and I will receive commissions if you purchase through these links. Thank You!
Hey, Corporate and Business Sisters (and Dudes)! We all need the right tools in our career and business toolbox to succeed, right?
In this Resources Page, I'm sharing the tools I've used to grow my career and business! Check these out below. Please note that I will be updating these over time, so bookmark the page and keep checking!